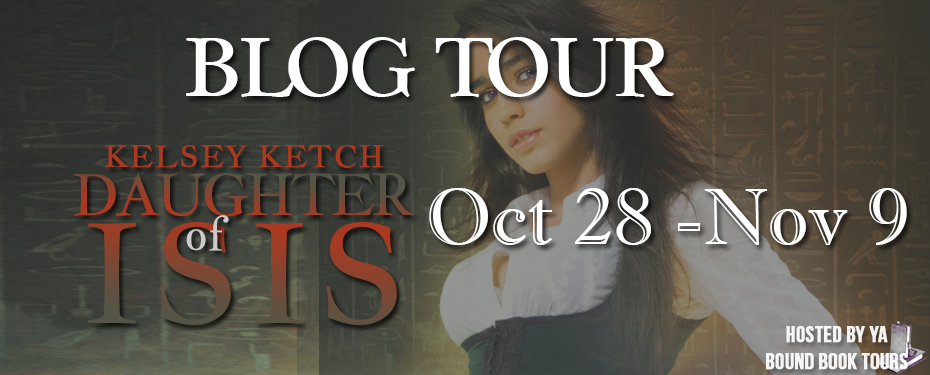 Today I bring you a review and a giveaway concerning Daughter of Isis by Kelsey Ketch! For more awesome content on this Egyptian mythology based tale, check out the full tour schedule!
Publication Date: October 26h, 2013
Genre: Upper YA/ Mythology
Amazon
/
Barnes and Noble
The last thing Natara "Natti" Stone wants to do is to start anew at Setemple High School. She wished she had never left London. Yet the brutal murder of her maternal grandmother has made her life very complicated. The only clue related to her murder is an ancient, encrypted necklace Natti discovered after her grandmother's death. And if trying to adjust to American life is not enough, Natti is being stalked by a mysterious, charming high school senior, Seth O'Keefe, who is annoyingly persistent in his attempts at seduction.





Seth O'Keefe is secretly a member of the Sons of Set, an order that worships the Egyptian god of chaos. Seth's blessing from Set, his "charm," never failed, except with one person: Natti Stone. Her ability to elude him infatuates and infuriates him, and he becomes obsessed with the chase. But the closer he gets to her, the more his emotions take a dangerous turn, and he risks breaking one of the most valued covenants of his order. The punishment for which is a fate worse than death.





The adventure this unlikely couple becomes engulfed in could cost them their lives and their souls.
Review:
Daughter of Isis was an addicting and enthralling read brimming with Egyptian mythology. I was pulled into the story after simply reading a page. Also, I was surprised that Daughter of Isis turned out to be very dark and unique!
The premise surrounds Natti and Seth. Natti has just moved to a new town, and it seems like a group of powerful, mean boys have a lot of control over the people. Thankfully, Natti sees the actions of the group as wrong, unlike the rest of the town who seem (magically?) oblivious to all the chaos.
To be honest, I wasn't expecting this book to be so... dark. There is enslavement, sacrifice of the human variety, and other old traditions that sickened me. However, I am pretty sure the author meant for the reader to feel the ways I just stated. It was part of the main points/plots of the book.
Unfortunately, I did not like Seth, except for maybe at the end. In the beginning, he is a terrible person, although that can easily be blamed on his dad. Also, there is a magical force that is often described in Seth that hungers for power. I think that if he had different parents and culture, he would have been a good person to begin with. I hope that he turns out to be a very awesome person in the next book.
I loved all the Egyptian mythology incorporated into Natti's story. I have always been a fan of myths, although I normally read about the descendants of Greece, not Egypt, which is a good change of pace.
Now, I will mention the characters I hate and love. Well, who do I hate? Seth's dad wins the prize here. He is a cold, manipulative, and totally despicable. Ketch knows how to create a villain! And, actually, I disliked almost all of the Sons of Set. Although, you can expect to loathe them just from their title. Set is a big, bad, evil god after all! I will warn you that the author is very forward and blunt about all terrible customs of the bad guys. I loved the character of Wanda, Natti's sweet friend she meets at her new school. Wanda lightened the book up for me!
Overall, for me, the book wasn't about the "romance". Which, to me, felt more like a chase on Seth's part. It wasn't until the end that Seth even realized how he really felt for Natti! The aspects that enthralled me were the mystery, mythology, and egyptian customs. I am, however, looking forward to seeing Seth in the next book, and he better kick his dad's butt!
4/5 Stars
2 E-copies of Daughter of Isis (mobi or epub) + Swag (INT)
2 Natti Prize Packs (US Only): Signed Paperback Copy of Daughter of Isis, Union Jack Journal, Grey Tabby Cat Beanbag, Eye of Horus Pendant, + Swag
a Rafflecopter giveaway