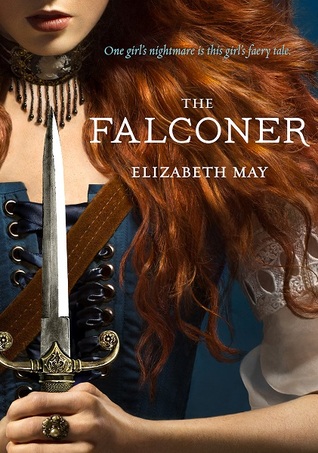 The Falconer by Elizabeth May
Publication: May 6th, 2014
Genre: Fantasy/Steam punk
Amazon
/
Barnes and Noble
Heiress. Debutant. Murderer. A new generation of heroines has arrived.

Edinburgh, Scotland, 1844



Lady Aileana Kameron, the only daughter of the Marquess of Douglas, was destined for a life carefully planned around Edinburgh's social events – right up until a faery killed her mother.





Now it's the 1844 winter season and Aileana slaughters faeries in secret, in between the endless round of parties, tea and balls. Armed with modified percussion pistols and explosives, she sheds her aristocratic facade every night to go hunting. She's determined to track down the faery who murdered her mother, and to destroy any who prey on humans in the city's many dark alleyways.





But the balance between high society and her private war is a delicate one, and as the fae infiltrate the ballroom and Aileana's father returns home, she has decisions to make. How much is she willing to lose – and just how far will Aileana go for revenge?
The Falconer was amazing! I was so wrapped up in the story from the first page that I flat refused to get off the floor to do anything productive. (I often read on my bedroom floor. Don't judge.)
First, let me mention the wonderful cast. The characters in The Falconer blew me away. Aileana Kameron, our main character, is feisty, smart, and ferocious. She is the ultimate fighting, blood-thirsty protagonist. Also, she is a master weapon designer!
During the day, she tries to be the perfect debutante. She goes to all the boring balls, deals with a father that looks right through her, and hangs out with her BFF (who is really awesome). However, Aileana is thirsty for blood and hunts the fae every night (even at balls) after her mother's murder. With all the social outings and hunting, she never has a dull moment!
After Aileana, the second most intriguing character is Kiaran MacKay. Kiaran is Aileana's mysterious fae trainer. They hunt at night together. However, of course, Kiaran is harboring major secrets... I'm still not sure if I can fully trust him.
Now, my favorite character, was... Derrick! Derrick is the hilarious pixie who craves honey. His antics never failed to make me laugh. Also, he is such a good friend to AiIeana. It was heartwarming!
The plot and gorgeous setting kept my nose glued to The Falconer's pages. The author definitely knows how to write a believable and complex story and world.
I can't not mention the ending. How? Why? What? What happened? The ending just abruptly happened in the middle of an important scene!!! I think the publishers forgot to insert the last few chapters... :)
Overall, I would not hesitate to recommend The Falconer to fans of Fantasy, Paranormal, or even Historical Fiction. *Round of applause for this book*
4/5 Stars
*Received for free in exchange for an honest review*