Publisher: Greenwillow Books
Release Date: June 10th 2014
An action-packed, blood-soaked, futuristic debut thriller set in a world where the murder rate is higher than the birthrate. For fans of Moira Young's Dust Lands series, La Femme Nikita, and the movie Hanna.
Meadow Woodson, a fifteen-year-old girl who has been trained by her father to fight, to kill, and to survive in any situation, lives with her family on a houseboat in Florida. The state is controlled by The Murder Complex, an organization that tracks the population with precision.
The plot starts to thicken when Meadow meets Zephyr James, who is—although he doesn't know it—one of the MC's programmed assassins. Is their meeting a coincidence? Destiny? Or part of a terrifying strategy? And will Zephyr keep Meadow from discovering the haunting truth about her family?
The Murder Complex is everything the synopsis promised. Lindsey Cummings has written a gory, thrilling story with a gripping world. The characters are very different and intriguing. I had a few problems, but, overall, I absolutely loved reading The Murder Complex!
Firstly, let me talk about the characters. Meadow and Zephyr, our two protagonists, are unique, very complex, and, understandably harsh and guarded. However, I feel like both of them have a different, perhaps softer, side, at least for Zephyr. Meadow, however, was my favorite of the two. Also, their interactions were interesting . My only complaint about the characters is the fact I never felt the special understanding or connection I crave while reading books.
The action and pace of this book was incredible. I was never bored because, frankly, there was never a dull moment. The book is filled of fights, shocking realizations, and other adventurous events. The world was absolutely terrrifing and dark. *shivers*
Often, I felt confused about the story, especially in the beginning. But I pushed through and was rewarded with awesome characters and action. Also, the writing in this book captivated me, and seemed to fit the dark tone of the book. The chapters and sentences were short, but very powerful. I really enjoyed this style.
Overall, I can't wait for book two and I need to get my hands on The Fear Trials, the prequel to The Murder Complex. Also, I just found out a few seconds ago (Literally. Thank you Goodreads!) that Cummings has a middle grade series coming soon that sounds amazing!
3.5/5 Stars (Rounded to 4 stars)
Follow the FFBC The Murder Complex + Fear Trials blog tour and don't miss anything! Click on the banner to see the tour schedule.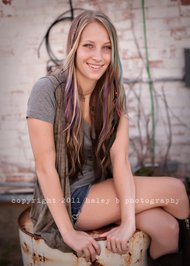 Lindsay Cummings is the 20-year-old author of THE MURDER COMPLEX, as well as its sequel, coming 2014 from Greenwillow Books/HarperCollins, and the MG trilogy THE BALANCE KEEPERS, coming Fall 2014 from Katherine Tegen Books/HarperCollins.
Lindsay deals with chronic fatigue, can't get enough of her two pesky German Shepherds, wolf cub, and two horses. She's still waiting on her letter from Hogwarts--it was probably just lost in the mail. You can follow Lindsay on twitter @lindsaycwrites



Win (1) of (3) signed hardback of The Murder Complex + swag pack (US Only)
Tour organized by The Fantastic Flying Book Club (FFBC):
Fun Question: Do you think it'd be cool to be taught to fight and kill, or terrifying?