17 First Kisses by Rachael Allen
Publisher: HarperTeen
Release Date: June 17th 2014
Genre: YA Contemporary
No matter how many boys Claire kisses, she can't seem to find a decent boyfriend. Someone who wouldn't rather date her gorgeous best friend, Megan. Someone who won't freak out when he learns about the tragedy her family still hasn't recovered from. Someone whose kisses can carry her away from her backwoods town for one fleeting moment.





Until Claire meets Luke.





But Megan is falling for Luke, too, and if there's one thing Claire knows for sure, it's that Megan's pretty much irresistible.





With true love and best friendship on the line, Claire suddenly has everything to lose. And what she learns—about her crush, her friends, and most of all herself—makes the choices even harder.





In her moving debut, Rachael Allen brilliantly captures the complexities of friendship, the struggles of self-discovery, and the difficulties of trying to find love in high school. Fans of Sarah Ockler, Susane Colasanti, and Stephanie Perkins will fall head over heels for this addictive, heartfelt, and often hilarious modern love story.
Can you persuasively sell your book, 17 First Kisses, to my blog readers in 5 words?
Finding yourself via kissing?
Hmm, that's only four. How about…
Lots and lots of kissing!
What? That doesn't do it for everybody? Okay, here's what the book is about:
Friendship, family, loss, rebuilding, kissing.
What do you admire most about Claire?
Her strength. She's able to be strong for her family and friends, she relentlessly pursues her dreams, and she's able to jump ship from a toxic relationship with a boy before it gets any worse.
How did you get your inspiration for 17 First Kisses?
The short story is that I was doing some house rearranging, and found a box of notes and magazine clippings (*cough* Justin Timberlake *cough*) from middle and high school, the contents of which was both hilarious and mortifying. I was struck by how different my friends and I were depending on what year the notes were from, and I wanted to write a book that captured the same characters at different snapshots of their lives.
Megan, Claire's best friend, is such an interesting character! Can you describe her in 140 characters or less? (Like in a tweet!)
Oh! This is a fun one! Here's my answer:
Fiercely protective friend. Fun. Dramatic. Craves her parents' approval. Loves cooking more than breathing. Not your average queen bee cheerleader.
I loved the chapters devoted to Claire's 17 kisses. Why did you include these scenes in the book?
Thanks! I'm so glad you liked those because they were really fun to write! Like I was saying before, I found this note box, and wanted to capture snapshots of these characters as they grew up. I thought of the title 17 FIRST KISSES, and I got so excited because having these kiss scenes in the past would allow you to get a glimpse of these characters in lots of situations at different ages. Plus, it meant I would get to write ALL THE KISSING

It
was
a lot of kissing though, so
I joke that none of my future characters are getting any action because I'm tired of writing kiss scenes (but I know I won't really be able to stay away because OMG kissing).
Now, a fun question! What is your dream travel destination?
I love this question because I love to travel! I'd have to say either Australia or Samoa. I've never been to either. I love seeing natural wonders, get giddily excited over weird animals, and I love having adventures, and eating new foods, and doing things like hiking and snorkeling.
What are some of your non-bookish hobbies?
I love science, and I work in a lab. I go fangirl over Pretty Little Liars and Game of Thrones. I love football, whether it's watching the Atlanta Falcons or Georgia Tech Yellow Jackets or playing flag football. Other than that, I'm hanging out with my husband, kiddos, and two dogs.
Quick! What's your favorite color?
Yellow! (People who love yellow feel very strongly about it. Hence, the exclamation point.)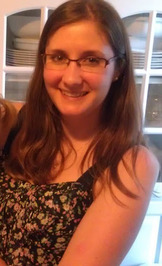 Rachael Allen lives in Atlanta, GA where she's working furiously on her PhD in neuroscience. When she's not doing science or writing YA, you can find her chasing after her toddler and her two sled dogs. Her debut YA novel 17 FIRST KISSES, is forthcoming from Harper Teen. Rachael may or may not have had 17 first kisses...luckily she doesn't kiss and tell.
Win (1) Signed Copy of 17 First Kisses + Swag, + an ARC of I Will Give You the Sun by Jandy Nelson (US Only)
As a side note, I bought this book, read it, and I really loved it! 17 Kisses is an amazing contemporary that focuses on so many interesting aspects.
Thanks for reading the post everyone!