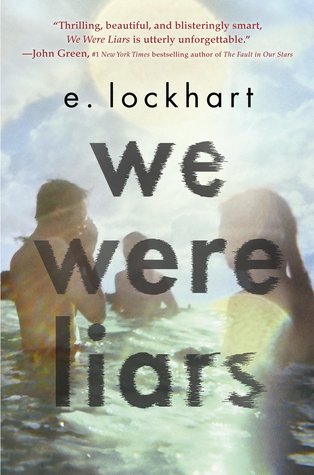 We Were Liars by E. Lockhart
Publication Date: May 13th, 2014
Source: Bought
Genre: YA Suspense
A beautiful and distinguished family.




A private island.




A brilliant, damaged girl; a passionate, political boy.




A group of four friends—the Liars—whose friendship turns destructive.




A revolution. An accident. A secret.




Lies upon lies.




True love.




The truth.



We Were Liars is a modern, sophisticated suspense novel from National Book Award finalist and Printz Award honoree E. Lockhart.

Read it.
And if anyone asks you how it ends, just LIE.
If you haven't heard of this book, you've been living under a rock. And I know all the hype can be a little scary. However, I believe We Were Liars deserves all of the praise. It's a beautiful, raw book. The writing is amazing, the characters are intriguing, and the plot twist is pretty cool.
The writing is what made the book for me. That said, I know that a lot of people were very deterred by Lockhart's writing style. I think this is a classic case of hate or love. You will fall deeply into the author's words, OR will be jolted out of the story by the oddity of the style. You have been warned.
Personally, I adored the writing. There are tons of metaphors, some personification, and scenes that are NOT meant to be taken literally. It's so cool and startling! Also, the book contains these new fairytales that correspond with the story. I'm a huge fairytale fan and these chapters enraptured me.
Also, the sentence structure of the book is very different. A lot of sentences are very short or fractured into pieces. Also, there is a lot of repetition of words or sentence styles. It's very poetic, beautiful, and just fits the book's personality (if that makes any sense).
Then, we have the characters. I'm not going to tell you much about them. I was most impressed by the vividness and uniqueness the characters possessed. They are extrememly interesting, although a bit unrelatable. However, that is to be expected. They are part of this rich, powerful, crumbling family on a dream island after all!
Finally, I have to talk about the elephant in the room. The ending. The truth is, the ending was not that shocking. However, it was the perfect ending to a nearly flawless tale. You get no more. Go read the book and find out yourself!!!
4.5/5 stars

Remember it's best to go into We Were Liars completely blind. I was vague in my review so I wouldn't spoil anything... not the plot, characters, or ending!