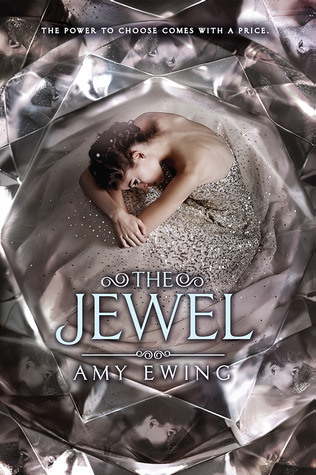 The Jewel (The Lone City #1) by Amy Ewing
Publisher
: HarperTeen
Release
Date
: September 2nd 2014
The Jewel means wealth. The Jewel means beauty. The Jewel means royalty. But for girls like Violet, the Jewel means servitude. Not just any kind of servitude. Violet, born and raised in the Marsh, has been trained as a surrogate for the royalty—because in the Jewel the only thing more important than opulence is offspring.





Purchased at the surrogacy auction by the Duchess of the Lake and greeted with a slap to the face, Violet (now known only as #197) quickly learns of the brutal truths that lie beneath the Jewel's glittering facade: the cruelty, backstabbing, and hidden violence that have become the royal way of life.





Violet must accept the ugly realities of her existence... and try to stay alive. But then a forbidden romance erupts between Violet and a handsome gentleman hired as a companion to the Duchess's petulant niece. Though his presence makes life in the Jewel a bit brighter, the consequences of their illicit relationship will cost them both more than they bargained for.
1. Can you persuasively sell your book, The Jewel, to our readers in 6 words?
Oh man, that's tough! Ok, here goes: "Girls sold as surrogates to royalty." I don't know if that's particularly persuasive, but it certainly gives you a good idea as to what the book is about.
2. What do you admire most about Violet?
I really admire her compassion, especially in the face of all she is forced to endure in the Jewel. She never loses sight of who she is and what is important to her. And I love that she is a fierce friend, particularly when it comes to Raven.
3. What character in The Jewel was most fun to write about?
Ok, I'm torn on this one. First, I'll say: The Duchess! I absolutely love the Duchess. She is so layered. You never know if you want to hate her or feel bad for her. I think that's my favorite type of character to read, and to write. But in terms of pure fun, Garnet wins hands down. He is such a jerk, but he's a loveable jerk. Super entitled, a total rule breaker, and supremely inappropriate—what could be more fun to write than that?
4. The cover art is amazing, I adore it! What do you think of The Jewel's cover?
Oh my god, I LOVE THIS COVER! I feel so incredibly lucky—as an author, you pretty much have zero control over what goes on the cover of your books and I just couldn't be happier with what HarperCollins came up with. I mean, they put Violet into a diamond. And the subtlety of color? The refractions in the facets of the diamond? The way Violet looks so sad while surrounded by beauty? It's absolutely perfect. I can't gush enough about it.
5. Where is your dream travel destination?
I would love to go to Bali. I love beach vacations. I can hang out on a beach for ages. I realized that last year when I went to San Sebastian with a friend—there is this famous beach there called La Concha and we spent three days just lying out, sunning ourselves, chatting, and reading books. And I did not want to leave.
6. What are some of your non-bookish hobbies?
I play guitar and write my own songs. I am the worst binge-watcher of Netflix in the history of ever—I can be such a procrastinator and Netflix is definitely my enabler. I love doing jigsaw puzzles and I really like to cook.
7. I love that Violet plays the cello! What kind of music do you like?
Me too! I actually played the cello when I was in middle school and it's always been one of my favorite instruments. I love folksy, blue grass, Americana type of music, like Old Crow Medicine Show, the Avett Brothers, and the Steeldrivers. And of course, older, classic folksy music, like Bob Dylan, Simon and Garfunkel, and James Taylor. I was brought up on the Beach Boys and Sam Cooke and Dion and the Belmonts—my father was always playing their albums on Saturday afternoons.
8. Quick! What's your favorite color?
OK, this sounds really lame, but I swear it's true: Purple! Maybe that was in the back of my mind when I chose Violet's name...
Amy Ewing is the young adult author of
THE JEWEL
, the first in a trilogy from HarperTeen, coming out September 2014.
She grew up in a small town outside Boston, where her librarian mother instilled a deep love of reading at a young age. Amy moved to New York City in 2000 to study theater at New York University. Unfortunately, her acting career didn't quite pan out. She worked in restaurants, as an administrative assistant, a nanny, and a sales representative for a wine distributor before the lack of creativity in her life drove her to begin writing.
Amy received her MFA in Creative Writing for Children from The New School, where she was lucky enough to meet a fabulous community of YA writers who keep her sane on a daily basis. She lives in Harlem, where she spends her days writing, eating cheese, and occasionally binge watching The Vampire Diaries.
Win ONE of THREE copies of The Jewel (US Only)
I have already read The Jewel and LOVED IT so, so much! My review will go up sometime soon. Also, good luck to everyone who entered the giveaway!