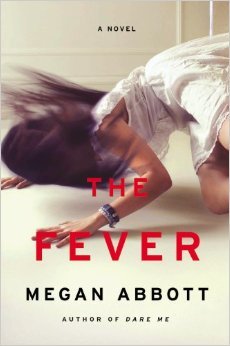 The Fever by Megan Abbot
Publication Date:
June 17th, 2014
Source:
Sent by
LibraryThing
and Hachette in exchange for an honest review
Genre:
Mystery
The panic unleashed by a mysterious contagion threatens the bonds of family and community in a seemingly idyllic suburban community.



The Nash family is close-knit. Tom is a popular teacher, father of two teens: Eli, a hockey star and girl magnet, and his sister Deenie, a diligent student. Their seeming stability, however, is thrown into chaos when Deenie's best friend is struck by a terrifying, unexplained seizure in class. Rumors of a hazardous outbreak spread through the family, school and community.





As hysteria and contagion swell, a series of tightly held secrets emerges, threatening to unravel friendships, families and the town's fragile idea of security.
This was a unique read... way, way different from the YA Fantasy/Dystopian genre I usually read! I enjoyed the unfamiliar writing, the weird characters, and the dark atmosphere. That aside, the conclusion let me down a little and The Fever did not truly impress me. I have many little problems!
Also, after reading, I'm still not sure if this is young adult or not! On Goodreads, it's shelved as Young Adult... but The Fever definitely had a more adult feel to it. We do get the perspectives of a few teens and a few adults, so I guess it is a good read for both ages?
While I never connected to any of the characters, I still liked reading about them. Just to let you know, there is quite the cast! At first, I had a hard time keeping their names straight. Eventually I got the hang of it!
Let's start with the teens. There are a lot of them. First we have the siblings: Eli and Deenie. I thought both of them were rather boring, but fair representations of teens. Eli is the popular, sportsy guy. Deenie seemed pretty average. Then, we have Deenie's two best friends: Lise and Gabby. They were both pretty interesting! Then we have Gabby's mother and her two friends... and so on!
The main adult is Tom, Eli and Deenie's parent. The divorced mother, and the parents of Gabby and Lise also come into play quite often. I didn't really like any of the adults either! However, they all were interesting in their own way. One woman was disfigured, one got in to serious trouble in a creepy lake, one was bonkers, etc.
To me the conclusion was anti-climatic. I actually liked the solution to the mystery, just not the way the author penned it out. After experiencing her wonderful writing throughout the beginning and middle, I felt like she shut things down quickly. She lost her wonderful atmosphere and the characters didn't come around full circle.
Also, while I really liked the main explanation for the seizure, another little explanation brought to light did not sit well with me. For fear of spoilers, I won't say any more. I was just a little skeptical about one part... if you've read the book and are curious, feel free to contact me!
I actually enjoyed reading The Fever. It was different and a step outside my usual genre. However, I am not sure if I would recommend this book to anybody. It's definitely not a favorite, although I did like a lot of parts, and I had many issues.
2.5/5 Stars (Rounded to 3)