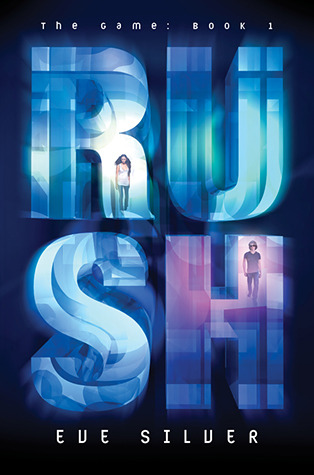 Rush by Eve Silver
Source: Received for free in exchange for an honest review
Publisher: HarperTeen
Publication Date: June 11th, 2013
So what's the game now? This, or the life I used to know?

When Miki Jones is pulled from her life, pulled through time and space into some kind of game — her carefully controlled life spirals into chaos.

In the game, she and a team of other teens are sent on missions to eliminate the Drau, terrifying and beautiful alien creatures. There are no practice runs, no training, and no way out. Miki has only the guidance of secretive but maddeningly attractive team leader Jackson Tate, who says the game isn't really a game, that what Miki and her new teammates do now determines their survival, and the survival of every other person on this planet. She laughs. He doesn't. And then the game takes a deadly and terrifying turn.
Rush was a good read! I am not salivating with a need to fangirl, but I enjoyed the ride Eve Silver took us on!
The first thing I loved about the book was Miki Jones. She's sassy, a little messed up, and a stellar main characters. She's got a voice that's unique and had me flipping pages. Also, of course, I liked Jackson. Even though I normally get frustrated with the "I'm mysterious and will answer all of your questions in one syllable... or less" type. However, in Rush, his antics made me smile and generally curious. It helps that Miki is just as exasperated with him as we are. Also, inside he is pretty sweet. I liked learning his back story!
The gaming aspect of the novel was awesome! I am not much of a gamer but it was super, super cool to learn terms. It was creative on the author's part! I do wish I got to learn more about the aliens... hopefully in the next book!
Overall, I absolutely recommend Rush. There's action and humor and interesting characters. Also, it goes by so, so fast. The ending was like ...BAM!
4/5 stars
*Received for free in exchange for an honest review*