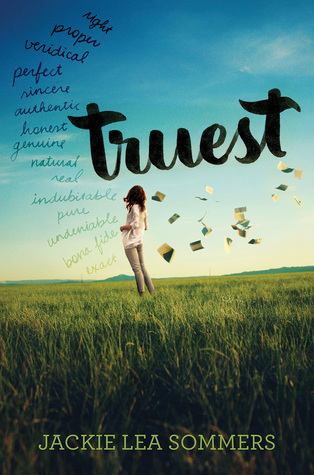 TRUEST by Jackie Lea Sommers
Silas Hart has seriously shaken up Westlin Beck's small-town life. Brand new to town, Silas is different than the guys in Green Lake. He's curious, poetic, philosophical, maddening-- and really, really cute. But Silas has a sister-- and she has a secret. And West has a boyfriend. And life in Green Lake is about to change forever.
Truest
is a stunning, addictive debut. Romantic, fun, tender, and satisfying, it asks as many questions as it answers.
Goodreads/Amazon/Barnes and Noble
Wow, it is going to be hard to do Truest justice in this review! When a friend on twitter sent this to me, I was excited but had no real expectations. I knew I loved the cover, but had not heard a lot of buzz about the novel. However, Truest definitely made my top books of 2015!!!
Firstly, this charming debut has such a cute setting. Green lake features a quirky cast, and cool scenery. Still, with such a small town, it is easy to understand why West, the protagonist, finds her home frustrating at times.
Along with the delightful setting, the novel came along with multi-dimentional lovable main characters. I was rooting for West and Silas the entire time. I loved their stint detailing cars, their banter, and Silas's love of poetry. The side characters were amazing as well. Silas's sister gives the book a darker edge and ventures into the subject of mental illness, which Sommer wrote about with impressive insight. Gordon, an elderly blind friend of West's, was wise and a great quirky grandfather figure. There were also family dynamics and conflicts brought up that touched me.
The romance was amazing. The ending was amazing. Overall, I am recommending this book to everybody. It is addicting, well-written, and a beautiful, fun, quirky tale!
5 out of 5 stars!!! I can't stop thinking about this book :)