I loved this book so much.... GO READ IT!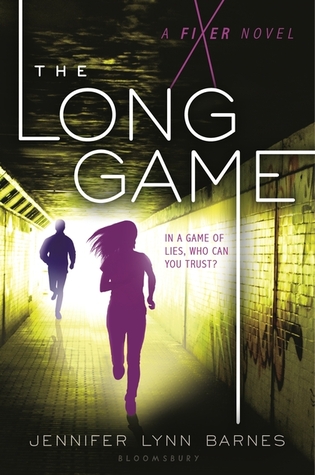 The Long Game by Jennifer Lynn Barnes
The Kendricks help make the problems of the Washington elite disappear…but some secrets won't stay buried.
For Tess Kendrick, a junior at the elite Hardwicke School in Washington, D.C., fixing runs in the family. But Tess has another legacy, too, one that involves power and the making of political dynasties. When Tess is asked to run a classmate's campaign for student council, she agrees. But when the candidates are children of politicians, even a high school election can involve life-shattering secrets.
Meanwhile, Tess's guardian has also taken on an impossible case, as a terrorist attack calls into doubt who can—and cannot—be trusted on Capitol Hill. Tess knows better than most that power is currency in D.C., but she's about to discover firsthand that power always comes with a price.
I just finished this wonderful, soul gutting book... and I am a mess. I NEED THE NEXT BOOK NOW! Everybody has to start this series. If you like smart, thrilling reads definitely pick up The Fixer books. The Long Game was an amazing sequel; Barnes developed and built on her amazing characters and intensified the plot to perfection.
Tess, our main character, is smart, determined, meddlesome, and amazing. She gets herself into many wild schemes and plots that had me on the edge of my seat. Our other characters, Ivy, Henry, Asher, Vivvie, Emilia, Bodie, and Adam, are all interesting, unique, and lovable in their own way (sometimes). The relationship between Ivy and Tess is so wonderful and tough and emotionally hard to read about.
I was enjoying the ride (A LOT) for the first half of the novel. BUT then the ending came and it killed me. I'm dead. So many twists... So many political games and intense scenes. My heart couldn't handle it all.
The Long Game is dark, sometimes funny, smart as a whip, twisty, and overall brilliant.. Read this book. Also, I really really really want book #3. So tell all your friends about this series! PLEASE for my sake and well being.