A must-read with shenanigans in space!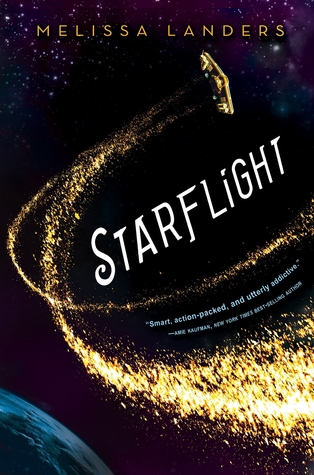 Starflight by Melissa Landers
Life in the outer realm is a lawless, dirty, hard existence, and Solara Brooks is hungry for it. Just out of the orphanage, she needs a fresh start in a place where nobody cares about the engine grease beneath her fingernails or the felony tattoos across her knuckles. She's so desperate to reach the realm that she's willing to indenture herself to Doran Spaulding, the rich and popular quarterback who made her life miserable all through high school, in exchange for passage aboard the spaceliner Zenith.
When a twist of fate lands them instead on the Banshee, a vessel of dubious repute, Doran learns he's been framed on Earth for conspiracy. As he pursues a set of mysterious coordinates rumored to hold the key to clearing his name, he and Solara must get past their enmity to work together and evade those out for their arrest. Life on the Banshee may be tumultuous, but as Solara and Doran are forced to question everything they once believed about their world—and each other—the ship becomes home, and the eccentric crew family. But what Solara and Doran discover on the mysterious Planet X has the power to not only alter their lives, but the existence of everyone in the universe...
Ooooh! This was such a fun read; I could not put Starflight down! If you love fun space adventures and a super cute romance pick this series up immediately.
Okay, so first order of business in the wonderfulness that is Solara and Doran. They start off hating each other- Doran is basically a terrible person- but then shenanigans ensue and all of the sudden they are amazing as a couple. Doran starts off rich, bratty, and insufferable. Cassia is orphaned and very smart, but after commiting a crime and being branded, she needs to find a way to the outer realm. Solara ends up indenturing herself to Doran to get there, but that arrangement doesn't last long. They end up having more of a codependent relationship and then the hate slowly goes away... It's very sweet!
Basically, after a lot of schemes, both Dorian and Solara end up on The Banshee, an old ship with character, and a lot less luxurious then their original "space liner" ship. The fun begins, though, when they become friends with the rest of the eccentric and lovable crew. *squee* I am so excited to read more about the crew in the next book!
In the end, after many fun space episodes, it all ties together with a showdown. Very early in the novel, we learn Doran is accused of some serious crimes. The ending brings to light why he was framed and who masterminded the whole ordeal.
Overall, Starflight was a read-it-all-in-one-sitting kind of book. It's not a new favorite but I still really loved the ride! I enjoyed it a lot more than Alienated (also by Melissa Landers). I am super excited for the next book, it focuses on two supporting characters from this book: Cassia and Kane! Their backstory was intense and I'm excited for it to all go down in book 2.
(Also, if you loved Fortune's Pawn by Rachel Bach, I have a feeling you'll also adore Starflight. Just sayin'. )