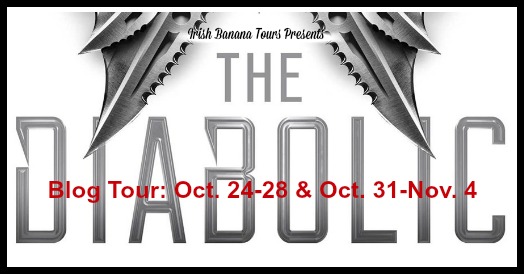 Read on for my review of The Diabolic and an amazing giveaway :D


The Diabolic by SJ Kincaid
A Diabolic is ruthless. A Diabolic is powerful. A Diabolic has a single task: Kill in order to protect the person you've been created for.
Nemesis is a Diabolic, a humanoid teenager created to protect a galactic senator's daughter, Sidonia. The two have grown up side by side, but are in no way sisters. Nemesis is expected to give her life for Sidonia, and she would do so gladly. She would also take as many lives as necessary to keep Sidonia safe.
When the power-mad Emperor learns Sidonia's father is participating in a rebellion, he summons Sidonia to the Galactic court. She is to serve as a hostage. Now, there is only one way for Nemesis to protect Sidonia. She must become her. Nemesis travels to the court disguised as Sidonia—a killing machine masquerading in a world of corrupt politicians and two-faced senators' children. It's a nest of vipers with threats on every side, but Nemesis must keep her true abilities a secret or risk everything.
As the Empire begins to fracture and rebellion looms closer, Nemesis learns there is something more to her than just deadly force. She finds a humanity truer than what she encounters from most humans. Amidst all the danger, action, and intrigue, her humanity just might be the thing that saves her life—and the empire.
One of my favorite things in the world is to close an amazing book and feel so ecstatic, and also sad at the same time, because I have to leave the world. The Diabolic, one of my favorite reads of 2016, was that book that was so wonderful and oh so hard to put down.
The Diabolic is just as amazing as it's really pretty cover! SJ Kincaid has created a dangerous, vivid world in this newest Sci-Fi standalone. The reader feels the tension and emotions in every chapter.
Nemesis, our main character, was one of the reasons this book shone. She is a Diabolic: someone who is not seen as remotely human. Her job is to protect Sidonia. Then, one day, she has to travel to the Galactic Court under the false identity of Sidonia to protect her friend.
That's when things get crazy. Parties, deaths, wild schemes, horrible emperors, crazy princes. And, along the way, Nemesis discovers some truths about herself. Yes, she is a Diabolic, but that doesn't mean she's less than. It doesn't mean she can't feel. Meanwhile, she was also a genuinely strong main character. I loved how the author didn't shy away from having a main character with muscles and amazing fighting technique.
I loved the relationships in the book: Especially between Nemesis and Sidonia, Nemesis and Tyrus, and Nemesis and Neveni. Along with great friendships and romance came also a lot of enemies. And, of course, The Diabolic wrapped up with an epic, grand ending.
In conclusion, the action, politics, fantastic characters, relationships, space, cool twists, and more make The Diabolic a must-read! I know it's a standalone, and I love standalones, but I wouldn't exactly say no to another book or a spin-off or something of the like. That said, I'll definitely be picking up more SJ Kincaid no matter what she writes.

5/5 Stars
S.J. Kincaid was born in Alabama, grew up in California, and attended high school in New Hampshire, but it was while living beside a haunted graveyard in Scotland that she realized that she wanted to be a writer. Her debut,
Insignia
, came out in July of 2012. The second book in the series,
Vortex
was released in July of 2013. The final book in the trilogy,
Catalyst
, came out October 28, 2014. Her standalone novel
The Diabolic
will be released in fall 2016.
Now, time for a giveaway! You want this book, trust me :D
Enter to win Three Finished Copies of The Diabolic: US only
a Rafflecopter giveaway