This Week I am IMPATIENTLY WAITING ON...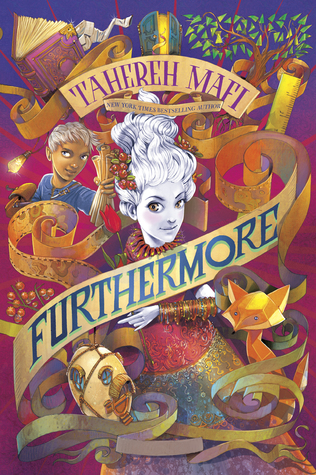 Furthermore by Tahereh Mafi
There are only three things that matter to twelve-year-old Alice Alexis Queensmeadow: Mother, who wouldn't miss her; magic and color, which seem to elude her; and Father, who always loved her. The day Father disappears from Ferenwood he takes nothing but a ruler with him. But it's been almost three years since then, and Alice is determined to find him. She loves her father even more than she loves adventure, and she's about to embark on one to find the other.
But bringing Father home is no small matter. In order to find him she'll have to travel through the mythical, dangerous land of Furthermore, where down can be up, paper is alive, and left can be both right and very, very wrong. Her only companion is a boy named Oliver whose own magical ability is based in lies and deceit—and with a liar by her side in land where nothing is as it seems, it will take all of Alice's wits (and every limb she's got) to find Father and return home to Ferenwood in one piece. On her quest to find Father Alice must first find herself—and hold fast to the magic of love in the face of loss.
I LOVE the Shatter Me series. Juliet's character development is A+ and the writing is soooooo beautiful! Now I am excited for Mafi's newest work and have high expectations (eeeeep!) The cover is very busy but I think I like it, plus I am excited to see how Mafi handles middle grade.
-Emily Anne
(While you are here go check out my review for The Long Game by Jennifer Lynn Barnes. Yeah? Maybe? No? Okay.)