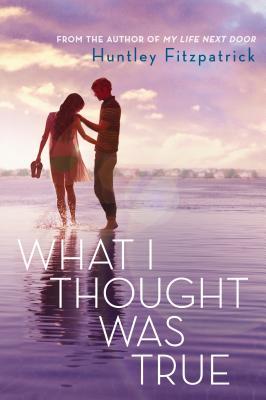 What I Thought Was True by Huntley Fitzpatrick
Publication Date: April 15th, 2014
Genre: YA Contemporary
Amazon
/
Barnes and Noble
From the author of My Life Next Door comes a swoony summertime romance full of expectation and regret, humor and hard questions.





Gwen Castle's Biggest Mistake Ever, Cassidy Somers, is slumming it as a yard boy on her Nantucket-esque island this summer. He's a rich kid from across the bridge in Stony Bay, and she hails from a family of fishermen and housecleaners who keep the island's summer people happy. Gwen worries a life of cleaning houses will be her fate too, but just when it looks like she'll never escape her past—or the island—Gwen's dad gives her some shocking advice. Sparks fly and secret histories unspool as Gwen spends a gorgeous, restless summer struggling to resolve what she thought was true—about the place she lives, the people she loves, and even herself—with what really is.
What I Thought Was True was satisfying and I don't regret reading Gwen's story. However, there were some issues I couldn't overlook. After all the hype and rave reviews, it is no wonder that I was left a teensy bit disappointed. That said, I wouldn't hesitate to recommend this wonderful novel!
To start off my review, I will tell you the two things I LOVED about Huntley Fitzpatrick's novel. First of all, her characters are spot on. They are realistic teenagers figuring out who they, what they want in life, and, ultimately, discovering themselves. Also, this book focuses on so many character other than our main couple. Friends, employers, and dysfunctional families are a big part of the story. I loved the huge cast!
My first major problem with the book was the rough transitions to flashbacks. Normally, I love a good flashback or two. However, I feel like the book incorporates to many memories from the past. They are executed in awkward ways that confused many readers.
Also, in the middle, the book lagged. I definitely had issues with the paces, and I saw on Goodreads that a few others agree. This book could have been many pages less. In my opinion, most of the beginning and end was stellar. The middle, however, suffered.
I have one last complaint. Ready? Well, it's hard to admit it, but, I wasn't a fan of the romance. I never grew to really like Cass. He felt very unrealistic to me, especially compared to the other wonderful characters such as Gwen, Nic, or Mrs. Elligton!
Despite my complaints, I really need to stress that this is a beautifully written and insightful novel that every teenager should read. What I Thought Wad True touches on family problems, upper and lower class division, the feelings of growing up, the reality of moving on, the terrible issue of slut-shaming, and relationships between friends.
Overall, this book is not a fluffy read, as the cover might suggest. The words contain wisdom and truth that is sometimes bitter. This book would have been absolutely amazing if it had been a few hundred pages shorter and had less disjointed flashbacks. Also, although the characters are wonderfully crafted, I felt a barrier between us at times.