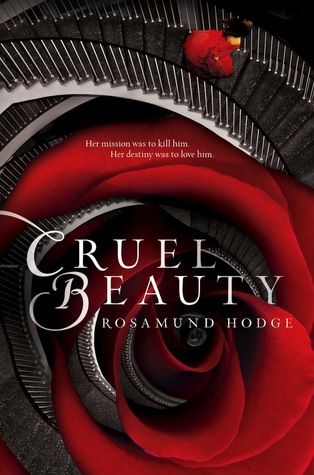 Cruel Beauty by Rosamund Hodge
Genre: Fantasy
Source: Free upload from SYNC
Publisher: Balzer + Bray
Graceling meets Beauty and the Beast in this sweeping fantasy about one girl's journey to fulfill her destiny and the monster who gets in her way-by stealing her heart.



Based on the classic fairy tale Beauty and the Beast, Cruel Beauty is a dazzling love story about our deepest desires and their power to change our destiny.





Since birth, Nyx has been betrothed to the evil ruler of her kingdom-all because of a foolish bargain struck by her father. And since birth, she has been in training to kill him.





With no choice but to fulfill her duty, Nyx resents her family for never trying to save her and hates herself for wanting to escape her fate. Still, on her seventeenth birthday, Nyx abandons everything she's ever known to marry the all-powerful, immortal Ignifex. Her plan? Seduce him, destroy his enchanted castle, and break the nine-hundred-year-old curse he put on her people.





But Ignifex is not at all what Nyx expected. The strangely charming lord beguiles her, and his castle-a shifting maze of magical rooms-enthralls her.





As Nyx searches for a way to free her homeland by uncovering Ignifex's secrets, she finds herself unwillingly drawn to him. Even if she could bring herself to love her sworn enemy, how can she refuse her duty to kill him? With time running out, Nyx must decide what is more important: the future of her kingdom, or the man she was never supposed to love.
Cruel Beauty was a stunning mix of Beauty and the Beast and Greek Mythology! I devoured every bit of Nix's story! If you are a fan of fantasy, I highly recommend getting your hands on a copy.
The Setting:
First of all, the author incorporated lots of amazing mythology and creative types of magic into Cruel Beauty. The world was so complex and vivid! I was completely immersed. However, the flip side is that there is a lot of page space devoted to world building. So, if tons of world building isn't your cup of tea, don't say I didn't warn you!
Also, I was dazzled by Ignifex's castle! It contained so many mysteries and I loved the tangible atmosphere. As Nyx explored, found magical rooms, and ran into dark creatures, I felt as if I was right there with her... captivated by the wonders and secrets!
The Characters:
Rosamund Hodge has mastered the art of writing different kinds of relationships. To everyone around them, Nyx and her sweet sister are seemingly fine. However, both have feelings of hate and uselessness under their skin. There is also an interesting Father/Daughter relationship. There is even a progress in the relationship between the mother and her daughters... despite the fact the mother is in the grave the entire book!
The romantic relationships were amazing. Ignifex and Slate both had their faults... but as more is revealed, the more your feelings change. I was, personally, an Ignifex fan. I didn't trust Slate at all. However, both were dark, complex characters that intrigued me immensely.
My favorite part of Cruel Beauty was Nyx's temperament. She isn't perfect. She isn't a selfless hero. She is a scared, angry girl sent to her death by her own family. She has never dreamed of a better life, and is constantly upped by her sister. She has tried to be someone she isn't for a long time, and I loved seeing her grow! Read

this post

for more context on why I loved Nyx so much!
The Ending/My Conclusion:
The ending of the book was perfection: unexpected, inventive, and it gave me lots of good feels! The book also leaves the reader with several strong messages. Despite my love for the conclusion, I was still very sad when this beautiful novel came to an end.
Also, it should be known that I listened to the audiobook of Cruel Beauty. It was an amazing experience! The narrater, Elizabeth Knoweldon, had all the characters down perfectly. However, I am definitely ordering a hardcover for my shelf and rereading! If Cruel Beauty sounds up your alley, you should probably go grab the book too :D
4.5/5 Stars (Rounded down to 4)