(Please note that I received this book for review through Firstreads. However, this is a 100% honest review.)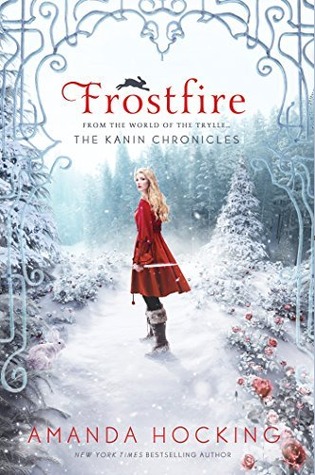 FROSTFIRE BY AMANDA HOCKING
Bryn Aven is an outcast among the Kanin, the most powerful of the troll tribes.

Set apart by her heritage and her past, Bryn is a tracker who's determined to become a respected part of her world. She has just one goal: become a member of the elite King's Guard to protect the royal family. She's not going to let anything stand in her way, not even a forbidden romance with her boss Ridley Dresden.

But all her plans for the future are put on hold when Konstantin– a fallen hero she once loved – begins kidnapping changelings. Bryn is sent in to help stop him, but will she lose her heart in the process?
Oh what fun! I absolutely loved returning to Amanda Hocking's world of trolls, royalty, and trackers! I would whole heartedly recommend this book to almost anyone. There is humor, romance, and action. I can already tell the Kanin Chronicles will be an amazing series.
First, we have our heroine. Bryn. I think I like her even more than I liked Wendy from the Trylle trilogy! She is a hard working tracker that stands out because of blonde hair, fair skin, and eyes, unlike the rest of the Kanin, that mark her a a half-breed. She is half Skojare, making her an outcast.
As always, Amanda Hocking ha of provided us with two love interests. Love triangles aren't really my thing, but Amanda Hocking does it so well. I lapped it up! Currently, I really like Ridley. But, I feel like I could really grow to like Konstantin once I understand his background, his reasons for his actions, and just get to know him better! (Plus, I love his name.) Another character I liked was Linus, a changeling Bryn saved from Konstantin. He was really sweet and I hope he has parts in the upcoming sequels!
Also, there was all the royal intrigue and stuff. I love reading about riches and dances. It's so fun! Speaking of royalty, I really didn't like the king, and I am really intrigued by the queen. The king seems pretty stuck up to me, and it was implied that the queen was lying about loving her husband! What fun!
For those wondering, it is not necessary to read the Trylle trilogy first, but I would highly recommend doing so. There are a few cameos of characters from the trilogy, and the books would give you a deeper understanding of the world! Plus, it is just interesting to reading from both Wendy and Bryn's view points, since one is the equivalent of a princess and the other is a tracker and a "peasant".
Overall, I can't wait for the next book in the series. I can always count on Hocking for an entertaining, engaging read full of vibrant characters, swoony love interests, amazing settings and ideas, and fighting/action!
4/5 stars