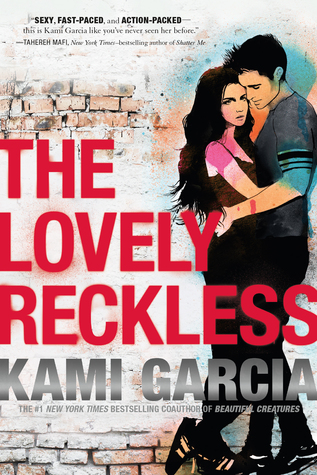 The Lovely Reckless by Kami Garcia
I've become an expert at avoiding things that could hurt me—which means I will figure out how to stay away from Marco Leone.
Seventeen-year-old Frankie Devereux would do anything to forget the past. Haunted by the memory of her boyfriend's death, she lives her life by one dangerous rule: Nothing matters. At least, that's what Frankie tells herself after a reckless mistake forces her to leave her privileged life in the Heights to move in with her dad—an undercover cop. She transfers to a public high school in the Downs, where fistfights don't faze anyone and illegal street racing is more popular than football.
Marco Leone is the fastest street racer in the Downs. Tough, sexy, and hypnotic, he makes it impossible for Frankie to ignore him—and how he makes her feel. But the risks Marco takes for his family could have devastating consequences for them both. When Frankie discovers his secret, she has to make a choice. Will she let the pain of the past determine her future? Or will she risk what little she has left to follow her heart?
The Lovely Reckless was an addicting and exciting read. Kami Garcia has delivered a real page turner! On the ARC so many authors blurbed and praised this book, and I can definitely see why. I expect it will be a major fall release, and I will happily recommend The Lovely Reckless to other book bloggers!
Frankie, who has just witnessed the murder of her boyfriend, is having a tough time adjusting after the tragedy. She can't even remember his murderer. On the day of his funeral, she's caught drunk driving. From then forth she's sent to live with her dad, who's a cop, on the rough side of town. It's very different than her previous community in the Heights. Frankie's life does a 180.
That's when the real excitement starts. Frankie gets mixed up with street racing, criminals, and new tough best friends (I loved Cruz. She was awesome.) Garcia also points out how a lot of these "rough" kids have tough backgrounds... and that their situations are hard, and sometimes impossible, to get out of.
My only complaint: the insta-love. I really liked both characters separately. However, as a couple, Frankie and Marco exchanged the "I love you"s too fast in my opinion. We were told as readers how much they loved each other, but I couldn't quite see it yet. The classic case of show not tell! I do think they are a perfect fit though: they just needed more time to get to know each other.
Overall, I really enjoyed the story. Yes, the drama was fun and addicting; but Garcia also put in a lot of depth and made some good points. Additionally the "rougher" setting (the Downs) was fun and different. I am so glad I picked The Lovely Reckless up. Readers, mark your calendars for October 4th. You'll thank me later. (Fan of Katie McGarry or Jennifer L Armentrout will especially love this!)