*I received this series for free from Xpresso Book Tours*
Oooh look a fun fantasy trilogy filled with mythology!!
Book One: Red Winter
Goodreads
/
Amazon
Red Winter was a fantastic start to the series! First, I was surprised by the BEAUTIFUL ILLUSTRATIONS included. Seriously, they were gorgeous. And I loved all the mythology and world building. I wasn't sure if I would like Emi at first, but I loved her character growth. The reader watches Emi start to become her own person instead of seeing herself only as a vessel for a kami.
Also, I loved Shiro!!! He was my favorite character throughout the series. I enjoyed watching his character growth and learning more about him. Romance was not at all front and center in this first book... which I like because I've always preferred slow burn.
Book Two: Dark Tempest
Goodreads
/
Amazon
In this sequel the pace does not let up! While this book was my least favorite in the series, I still really enjoyed it. I, of course, continued to adore the illustrations and all the characters.
My favorite part was the blossoming, slow relationship between Emi and a certain fox spirit. Also, there were some surprising revelations about Shiro! And a lot more characters were introduced and the fictional world continued to expand. I loved the atmosphere... it was tense and exciting. The readers get to delve deeper into mythology and the past. Basically, we got to know all the characters more and really geared up for the amazing grand finale!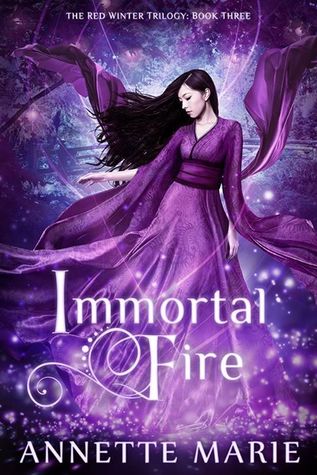 Book Three: Immortal Fire
Goodreads
/
Amazon
Immortal Fire was my favorite book in the trilogy! It was all high stakes action and a panicked count down until the day Emi will end her mortal life and become
Amaterasu
. There were also some really cute and bittersweet sections. I was so touched by the scene at the beach.
The ending chapters killed me! It was so emotional and I was very distraught for a bit. However, *spoilers* I did get my happy ending and it was soooooo sweet *end spoilers* Immortal Fire was a powerful, well written conclusion to an excellent series. I was so sad to say goodbye to Emi, Shiro, Yumei and all the characters.
Overall:
The Red Winter trilogy gets 4/5 stars from me. In the future, I will definitely pick up more of Anette Marie's books! I would not hesitate to recommend this series to fans of mythology, beautiful illustrations, and sweet romance.
Also, I didn't included all the book synopsis's (so that this post wouldn't be mammoth) so click
here
to access all the books and descriptions on Goodreads!