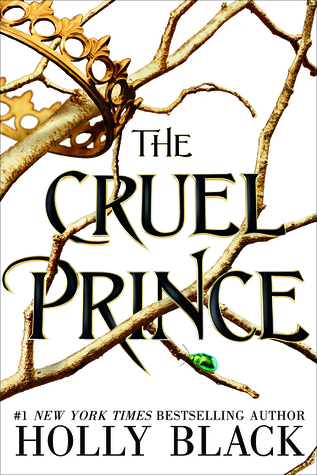 The Cruel Prince by Holly Black
Jude was seven years old when her parents were murdered and she and her two sisters were stolen away to live in the treacherous High Court of Faerie. Ten years later, Jude wants nothing more than to belong there, despite her mortality. But many of the fey despise humans. Especially Prince Cardan, the youngest and wickedest son of the High King.
To win a place at the Court, she must defy him–and face the consequences.
In doing so, she becomes embroiled in palace intrigues and deceptions, discovering her own capacity for bloodshed. But as civil war threatens to drown the Courts of Faerie in violence, Jude will need to risk her life in a dangerous alliance to save her sisters, and Faerie itself.
The Cruel Prince is a very promising start to a new series which I am undeniably excited for. Holly Black is such an amazing writer. I loved her Curse Workers series and I'm glad to have found a new piece of work from her.
This book is
definitely
causing a storm in the book world. There's so many good reviews on Goodreads, blogs, and YouTube. While I didn't love it as much as some people, I definitely enjoyed it. (The hype might have ruined it a bit for me!)
THAT ENDING THOUGH. The ending has me itching for the next book.
I'm getting ahead of myself though. So what do I love about this book? I love that this book doesn't hold back on the dangerous, feral quality of the fae. They are bullies. They are powerful. They will kill your parents. They will make it their mission to torture you. There were some fae *cough cough you-know-which-one-if-you-read-the-book* who I loathed.
At some points I was close to yelling at the main character, Jude. DON'T DO THAT! DON'T TRUST THIS OR THAT PERSON etc. Sometimes I did question her judgement. Also, the bullying scenes were hard to read sometimes.
I was
intrigued
by all the family, sister, and friend dynamics. Jude has a twin sister and a half sister. And they are all very, very

different

. And Jude's

relationship with Madoc is so complicated and hard. He murdered her parents, but he's really the only parent figure she's known. It's all very interesting, especially toward the very end.
I was pretty sucked in by the story. I felt a disconnect from Jude sometimes but I think future books will create a better connection between reader and character. So, in conclusion, I highly recommend The Cruel Prince. It's definitely cruel and dangerous. And the twist/cliff-hanger(

ish

) is a killer one. Now comes the
wait for book two.