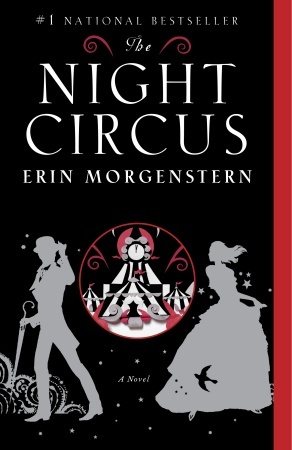 The Night Circus by Erin Morgenstern
Published: September 2011
Goodreads
Two starcrossed magicians engage in a deadly game of cunning in The Night Circus, the spellbinding bestseller that has captured the world's imagination.

The circus arrives without warning. No announcements precede it. It is simply there, when yesterday it was not. Within the black-and-white striped canvas tents is an utterly unique experience full of breathtaking amazements. It is called Le Cirque des Rêves, and it is only open at night.

But behind the scenes, a fierce competition is underway: a duel between two young magicians, Celia and Marco, who have been trained since childhood expressly for this purpose by their mercurial instructors. Unbeknownst to them both, this is a game in which only one can be left standing. Despite the high stakes, Celia and Marco soon tumble headfirst into love, setting off a domino effect of dangerous consequences, and leaving the lives of everyone, from the performers to the patrons, hanging in the balance.
Yes, I know I'm behind the times. But I FINALLY read The Night Circus and I can now say with a great deal of conviction that this beautiful piece of art is worth all the hype. The world Erin Morgenstern has created drew me in with its tantalizing descriptions and magic. So, if you're one of the few people left who hasn't had the pleasure of reading The Night Circus, please do.
The book spans many years and journeys many places. We meet so many wonderful characters and experience such highs and lows. And, from the moment I met little Celia and her magician father, I was invested.
Actually, scratch that. From the very first sentence I was hooked. From the very first description of this elegant, mysterious circus, I knew I had found my next favorite book. The circus itself is a living, breathing character in the story. And with each description of its magical tents and delicious aromas, I felt an increasing sense of longing to go there myself.
Of course, there is a constant tension throughout the story. The story is about a competition after all. And it's

exciting and scary and mysterious.

However, this competition breeds romance. And the romance between Celia and Marco is

exquisitely

breathtaking and fairytale-esque.
But Celia and Marco aren't the only wonderful characters. The whole cast is extraordinary. Herr Friedrick, a clockmaker, was a dearly beloved character to me. Of course, as a ballet dancer myself, I had a certain fondness for Ana Padva. I had so much fun with Poppet and Widget. And Bailey Clark is the unsung hero of the story.
When I finished the book, I felt as if something had been taken from me. I felt like a resident of some town in Europe who had experienced the wonders of Le Cirque de Rêves, and went back eagerly the next night to discover it gone - relocated to some new lucky place.