Hosted by the FFBC
Check out the tour schedule
here
!
Let's start out with my review for the action-packed first book!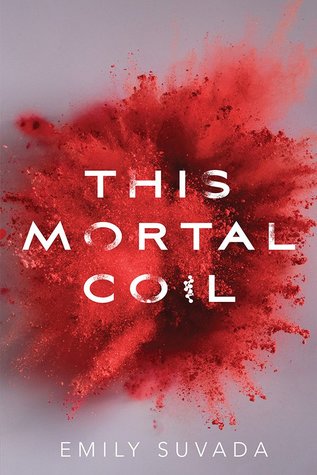 This Mortal Coil by Emily Suvada
Release Date: November 2017
Publisher: Simon Pulse
Catarina Agatta is a hacker. She can cripple mainframes and crash through firewalls, but that's not what makes her special. In Cat's world, people are implanted with technology to recode their DNA, allowing them to change their bodies in any way they want. And Cat happens to be a gene-hacking genius.

That's no surprise, since Cat's father is Dr. Lachlan Agatta, a legendary geneticist who may be the last hope for defeating a plague that has brought humanity to the brink of extinction. But during the outbreak, Lachlan was kidnapped by a shadowy organization called Cartaxus, leaving Cat to survive the last two years on her own.

When a Cartaxus soldier, Cole, arrives with news that her father has been killed, Cat's instincts tell her it's just another Cartaxus lie. But Cole also brings a message: before Lachlan died, he managed to create a vaccine, and Cole needs Cat's help to release it and save the human race.

Now Cat must decide who she can trust: The soldier with secrets of his own? The father who made her promise to hide from Cartaxus at all costs? In a world where nature itself can be rewritten, how much can she even trust herself?
Wow. This Mortal Coil was indescribably clever, fun, and brilliant.
I am prefacing this review with a small confession; I am not the most science-y person. However, I really, really loved this book and thought Suvada did an amazing job keeping me interested in all the genetics and coding. There was never a dull moment and I found myself turning the pages in anticipation and continued shock.
First of all, the world imagined in this book is so scary and creative. A virus that causes victims to explode and makes people resort to eating each other's flesh for immunity? That's a grim future that Suvada imagines. And I loved reading about the virus despite the fact that it is terrifying.
Also, Suvada's cast of characters was super memorable. Cat was a character I could root for and the romance had some fantastic tension. The dynamic between characters such as Cat and Lachlan was fascinating and disturbing. The mystery of the missing Jun Bei and the elusive vaccine also kept me on my toes.
However, the twists in this book may be my favorite part. I won't spoil you though. Go find out for yourself!
4/5 Stars
*received for free in exchange for an honest review*
This Cruel Design by Emily Suvada
Release Date: October 2018
Publisher: Simon Pulse
Cat thought the Hydra epidemic was over, but when new cases pop up, Cat must team up with an enemy to fix the vaccine before the virus spirals out of control in this thrilling sequel to This Mortal Coil, which New York Times bestselling author Amie Kaufman says "redefines 'unputdownable.'"

The nightmare of the outbreak is finally over, but Cat's fight has only just begun.

Exhausted, wounded, and reeling from revelations that have shaken her to her core, Cat is at a breaking point. Camped in the woods with Cole and Leoben, she's working day and night, desperate to find a way to stop Lachlan's plan to reprogram humanity. But she's failing—Cat can't even control her newly regrown panel, and try as she might to ignore them, she keeps seeing glitching visions from her past everywhere she turns.

When news arrives that the Hydra virus might not be as dead as they'd thought, the group is pushed into an uneasy alliance with Cartaxus to hunt down Lachlan and fix the vaccine. Their search takes them to Entropia, a city of genehackers hidden deep in the desert that could also hold the answers about Cat's past that she's been searching for.

But when confronted with lies and betrayals, Cat is forced to question everything she knows and everyone she trusts. And while Lachlan is always two steps ahead, the biggest threat to Cat may be the secrets buried in her own mind.
This sequel is just as good, if not better, than This Mortal Coil. My review will be short and sweet as to avoid spoilers from both books. But please note that I am positively bursting to talk to someone about the endless plot twists. There's not just one; I swear there's like sixteen.
Anyway, so what can I say? First of all, I grew even more attached to the characters in this one. Catarina was such a dimensional character and watching her struggle was hard. She cannot catch a break! Leoben remained one of my faves as well. And I'm also a big fan of Cole (I think). However, I also was impressed by the addition of new fascinating characters to the cast such as Anna and Mato. I can't say anymore about those two without spoilers...
The whole tone of the book is dark and ruthless. I mean, it's called This Cruel Design. Don't go in expecting kittens and butterflies. This book is an intense study of the dark side of humanity. And also Suvada delves deep into the scientific possibilities for our future. It's made me think. A lot.
Also, that ending! I NEED the third book now and it won't release for at least another year. This is the problem with reading books early *sigh*
4/5 Stars
*Recieved for free in exchange for an honest review*
Emily Suvada was born and raised in Australia, where she went on to study mathematics and astrophysics. She previously worked as a data scientist, and still spends hours writing algorithms to perform tasks which would only take minutes to complete on her own. When not writing, she can be found hiking, cycling, and conducting chemistry experiments in her kitchen. She currently lives in Portland, OR, with her husband.
a Rafflecopter giveaway