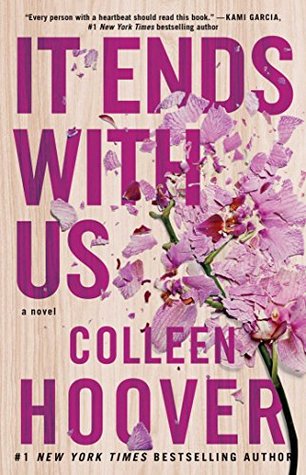 It Ends With Us by Colleen Hoover
Buy it on: Amazon/Barnes and Noble
Release Date: August 2nd, 2016
Rating: 5 Stars
Publisher: Atria Books
*I'm not going to put the book description here... if you haven't read this book yet I recommend reading it WITHOUT knowing anything*
I was nervous going into this book. Why? Normally I'm the Colleen Hoover black sheep. I was
meh
about Maybe Someday, I wasn't into Confess, and I hated November Nine.
So I tried this book with relatively low expectations. And I was blown away.
This book was so raw, real, and important. There were some lines so perfect they made me cry. Colleen Hoover has a masterpiece on her hands.
My advice? Go in blind. I read reviews saying to not even read the back... so I didn't. I went into this book with no idea what it was about. And that's part of the beauty of this story.
You are right with Lily as she begins her journey. You have no idea what life will bring. After reading It Ends With Us, I was enlightened on a subject I thought I would never have to ponder. It was both heartbreaking and eye opening.
I wasn't able to get this story out of my head for weeks. I only just felt okay enough to right this little "review" or stream of consciousness.
Bravo, Hoover. Bravo.
Have you read It Ends With Us yet? Are you planning on reading it?