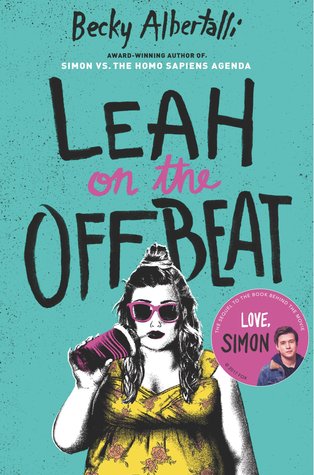 Leah on the Offbeat by Becky Albertalli
Publication Date: April 2018
Goodreads
Leah Burke—girl-band drummer, master of deadpan, and Simon Spier's best friend from the award-winning
Simon vs. the Homo Sapiens Agenda
—takes center stage in this novel of first love and senior-year angst.
When it comes to drumming, Leah Burke is usually on beat—but real life isn't always so rhythmic. An anomaly in her friend group, she's the only child of a young, single mom, and her life is decidedly less privileged. She loves to draw but is too self-conscious to show it. And even though her mom knows she's bisexual, she hasn't mustered the courage to tell her friends—not even her openly gay BFF, Simon.
So Leah really doesn't know what to do when her rock-solid friend group starts to fracture in unexpected ways. With prom and college on the horizon, tensions are running high. It's hard for Leah to strike the right note while the people she loves are fighting—especially when she realizes she might love one of them more than she ever intended.
I'm very conflicted over my rating. Parts of this book were amazing and worthy of 5 stars! Other parts I had serious issues with...
What I liked:
1) Simon and Bram (obviously) <3
2) College talk! (Seeing these character going on campus tours while I'm at the same stage in my life was so cool)
3) The Leigh Bardugo and other fandom references (Nina and Inej. My heart!)
4) How the story handles racism (A girl makes a stupid, horrible racist comment after a rejection and this was treated with the levity it deserves. My heart broke for Abby.)
6) The American Girl Store Debacle
7) I just love Albertalli's writing style and sense of humor
What I didn't like:
1) Leah's treatment of her mom
2) Leah's treatment of Garrett
3) Leah's treatment of people in
general
4) Prom felt very unrealistic. Very
romanticized
almost? And over dramatic?
5) Okay... confession time: I just wasn't really feeling or shipping Leah and Abby together at all.
This was a major issue considering they're the main focus.
I'm overall glad this book is out in the world and it's a worthy addition to the Creekwood universe - but it isn't at all comparable to the masterpiece that is Simon Vs. The Homo Sapiens Agenda.