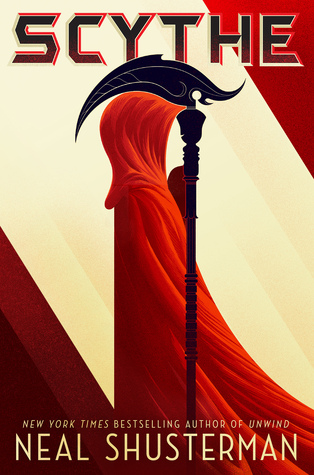 Scythe by Neal Shusterman
Publication Date: November 2016
Goodreads
Thou shalt kill.
A world with no hunger, no disease, no war, no misery. Humanity has conquered all those things, and has even conquered death. Now scythes are the only ones who can end life—and they are commanded to do so, in order to keep the size of the population under control.
Citra and Rowan are chosen to apprentice to a scythe—a role that neither wants. These teens must master the "art" of taking life, knowing that the consequence of failure could mean losing their own.
Woah. I was not expecting to love this book so much. I had avoided it for so long but finally the hype got to me - and I'm glad it did! Scythe was so well crafted, original, and addicting.
The world Shusterman built was so believable even though I was skeptical from the description. This utopian (if you discount the scythes) world was so interesting. I can't wait to find out more about the Thunder Head - the creator of this utopian world in our future.
Now, onto the most interesting part: the scythes. Wow. They were scary, disturbing, and horrifying. Some were downright evil and others I grew to respect. Shusterman really got into my head and I couldn't stop think about the ethics of death. From the very first Scythe journal entry, I was fascinated.
The characters are also well developed and I was rooting for each one. I won't say much more but I was majorly impressed with the morals and conscience of both Citra and Rowan. (Although there were definitely times I was worried about Rowan.) And there's a hint of romance! And, although the main characters were awesome, I was also blown away by the complexity of the older scythes such as their mentor, Scythe Faraday.
I really would just recommend this book to everybody. There isn't a book on the market quite like it; you are in for a harrowing but amazing experience. Don't worry about the synopsis and just give Scythe a go! You won't be able to stop flipping the pages.